Translate this page into:

doi:
10.18311/jade/2017/16446
Rapid Maxillary Expansion and Appliance
1
Intern; Vinayaka Mission's Sankarachariyar Dental College

,

NH – 47, Sankari Main Road, Ariyanoor, Salem – 636308, Tamil Nadu

,

India

,

principal.vmsdc@vmu.edu.in

,

ytedolly@gmail.com
2
Professor; Vinayaka Mission's Sankarachariyar Dental College

,

NH – 47, Sankari Main Road, Ariyanoor, Salem – 636308, Tamil Nadu

,

India

,

principal.vmsdc@vmu.edu.in

,

ytedolly@gmail.com
*
Address for correspondence:
Licence
This is an open-access article distributed under the terms of the Creative Commons Attribution-Non Commercial-Share Alike 4.0 License, which allows others to remix, tweak, and build upon the work non-commercially, as long as the author is credited and the new creations are licensed under the identical terms.
Disclaimer:
This article was originally published by Informatics Publishing and was migrated to Scientific Scholar after the change of Publisher.
Abstract
The purpose of this article is to know more about the rapid maxillary expander. It produces significant changes in the maxillary arch. RME has fundamental effect on the dentofacial structures which results in major change occurring in the basal structures of the maxilla. The concept of maxillary expansion has also been extended to the nasal cavity. Early orthodontic treatment with RME is able to reduce the symptoms of obstructive sleep apnea syndrome. This technique is more suited for younger patients and faster duration of action.
Keywords
Obstructive Sleep Apnea Syndrome
Rapid Maxillary Expander
1. Introduction
RME is otherwise known as Rapid palatal expander or split palate. RME produce skeletal type of expansion. It consists of enlargement of dental arch and widening of the palate. This concept was widely supported by ENT surgeons. RME is more useful in mixed dentition. It places an important role in the orthopaedic therapy. Orthopaedic expansion is the procedure by applying a lateral force against the posterior maxillary dentition producing a separation of midpalatal suture and produces increase in the transverse width of maxillary basal bone1,2.
2. Effect of the Rapid Maxillary Expansion
4. Contra Indication
Medically compromised patient.

Patient with poor co-operation.

Not accepted for deciduous dentition.

Handicapped patient.

Before completion of midpalatal suture RME is not accepted.

Patients with steep mandibular plane angle.
5. Types of Appliance Used for RME
Removable

Fixed – Divided into two types
5.1 Banded RME
Tooth borne and tissue borne.

Tooth borne.
5.1.1 Tooth Borne and Tissue Borne
Derichsweiler type.

Hass tyre.
5.2.2 Tooth Borne
Isaacson type.

Hyrax type.
5.2 Bonded Type RME
Cast cap splints.

Acrylic splints1.
7. Activation
In patient with 15 years of age 90 degree rotation can be activated twice in a day. In patients with above 50 years of age 45 degree activation is required 4 time/day. In older patient first 2 days should be two turns on each day followed by 1 turn/day for the 5-7 days and one time activation for alternative days till the acceptable amount of expansion is gained. The parent must be guided to active the screw for the younger patient. Mild pain may be felt during expansion1,9. [Figure 5(a) (b)]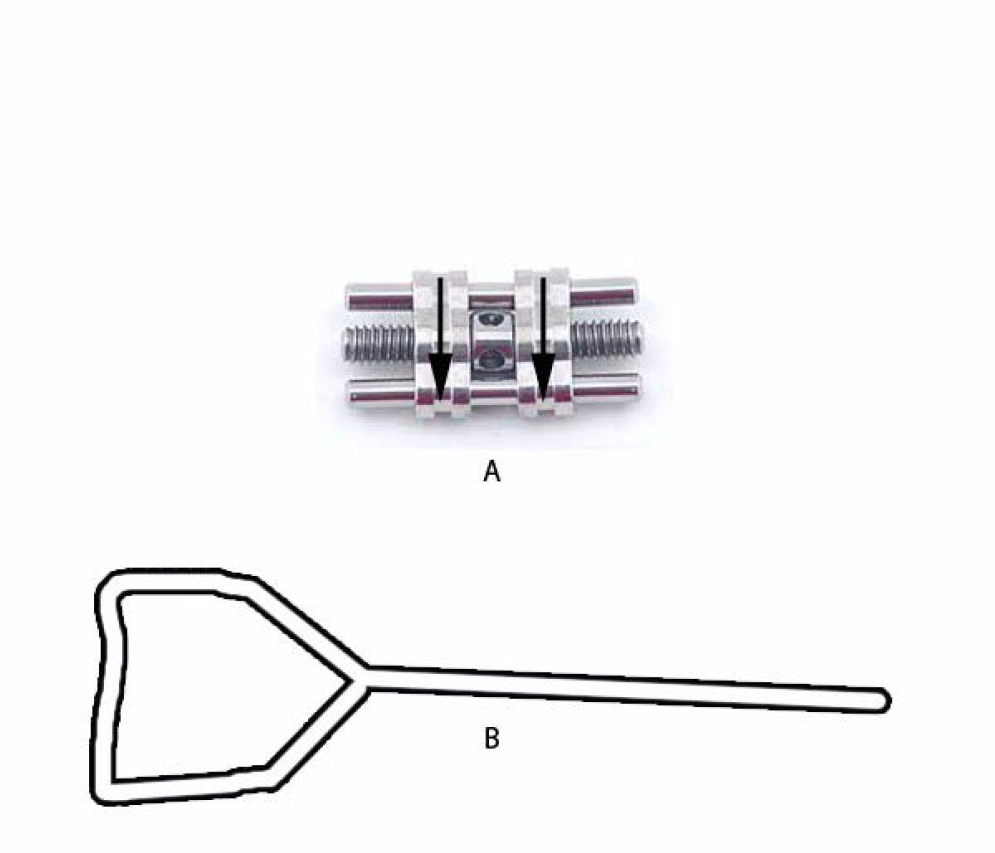 8. Conclusion
RME is more useful in several cases with moderate to severe discrepancy and maxillary construction and also used for increase the arch length. This procedure will improve nasal respiration and may be useful approach in dealing with abnormal breathing and OSAS. The appliance used in RME is more useful for expansion of the maxillary arch with limited duration. RME is a comparatively simple and conservative method of treatment.
Show Sections